Summary
Airport Marketing (AMI) creates experiential marketing programs in the world's leading airports that enhance the travel experience by engaging a unique group of ultra-desirable consumers everyday.
Discover why airports are your perfect venue for experiential engagements.
Discover why airports are your perfect venue for experiential engagements.
AMI connects with a rich, ripe and captive audience all while putting your Brand at the center via a robust activation — with a unique audience everyday.
Most passengers typically spend 90 minutes (post security) waiting for their flight, making them the perfect receptive audience. Unexpected and welcomed, guests will delight in the brand that puts something pleasant between them and their busy day.
Airports are a unique venue where the little things can mean a lot. Whether it is preferred parking, expedited security or an entertaining diversion - Brands can leverage the value of a positive lasting impression.
Why Airports Graph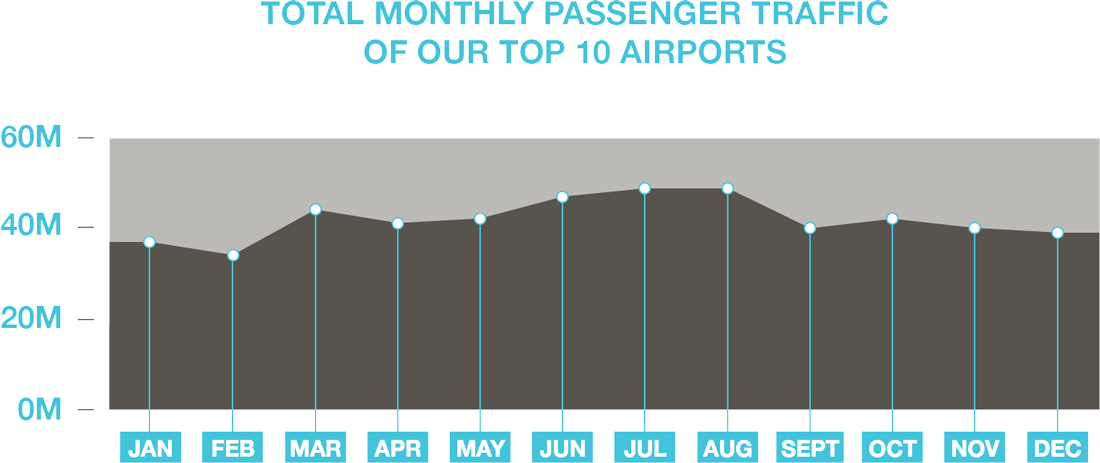 Jackpot! Millions of Business Frequent Flyers
70%
70%
70% are between the ages of 25 and 54
3x
3 x
Almost 3 times more likely to be in management
CXO
CXO
Large percentage hold C-level titles and work across a span of industries
$$$
$$$
Influential business and purchasing decision makers
Engage. Educate. Entertain.
For over a decade, Airport Marketing (AMI) has partnered with forward thinking airport management teams to create sponsorships and experiential marketing campaigns that enhance the passenger experience while driving significant new revenue opportunities. We are proud to have developed "first of their kind" sponsorship programs with Boston Logan, Philadelphia, Chicago O'Hare, and Denver to name a few. We are equally excited to be developing emerging new sponsorship categories with our airports and through our strategic partnership with Clear Channel Airports.
As airports become more of a destination, we strongly believe the opportunity for sponsorship development to play an important role in passenger satisfaction increases. Integrating a sponsorship strategy as part of your overall advertising program allows a select group of brands to become valuable partners in achieving your passenger experience goals as well as solving key business issues and unfunded projects & initiatives.
Here are some examples of programs operating in airports today.
Sponsorship Programs
Sponsorship Programs
Health & Wellness Programs

Parking Sponsorships

Passenger Services (WiFi, information centers, etc.)

Venue Sponsorships/Naming Rights (restrooms, lounges, terminals etc.)

Product Rights
Experiential Marketing Campaigns
Experiential Marketing Campaigns
Sampling Programs

Branded Security Programs (3-1-1)

Special Events/Welcome Programs

Passenger Entertainment & Education Solutions
We'll take care of everything
AMI has developed a system of operational excellence through the management of thousands of events globally every year. Our extreme focus to detail and experience with airport complexities allows for a very open and well-developed communication process throughout the development and execution of programs. And airports will tell you how AMI's proven turnkey business model makes it simple to enjoy the benefits of these programs. Whether working in conjunction with our strategic partner, Clear Channel Airports or with airport management teams directly, our uniquely qualified team of experts will manage all of the logistics, complexities and heavy lifting — with your review and approvals every step of the way.
AMI. The Premier Resource Ready to Turn Airports into Experiences
At AMI, we know the real value of airports. AMI's vast experience in today's air travel environment and knowledge of passenger motivation enables us to leverage both in order to offer incredible integrated, multi-engagement marketing and sponsorship opportunities. As you'll see, some of the country's biggest and busiest airports agree.
We're intimately familiar with experiential sampling programs and product demonstrations. The genesis of our organization came from ASM and Opus Solutions, nationally-recognized leaders in experiential event management and execution, which enhances our own expertise. A look at our track record of success for our corporate clients demonstrates how uniquely powerful airport-based marketing programs can be.
We're marketing pros. Whether implemented as a client's sole promotional tactic or integrated with other marketing campaigns, AMI's airport-based marketing income programs can target, touch, and influence the millions of top-tier consumers impossible to cost-effectively reach until now.
We offer powerful teamwork built on individual talent, strategic relationships, and an unwavering vision of where we believe this industry is headed. Our executive staff brings a combined 20+ years of involvement in and implementation of 10,000+ events, sponsorship, experiential marketing, airline, and airport-based promotions.
Our senior team members include:
Jeff Eischen
Monte Wood
Grant Hammersley
Libby Jasmer
Scott Holmes
Mike Muzi